New Situation: Solar Water Heater Equipment Market in Poland: First Go Down, Then Go Up
Views:5 Author:Site Editor Publish Time: 2019-04-26 Origin:Site
After two years of declining sales, the Polish solar collector market showed an upward trend in the first half of 2018. According to the polish association of heating equipment manufacturers and importers (SPIUG), sales of collectors increased by more than 50% in the first half of 2018, as shown in the figure below. Much of the industry's growth was due to the fact that many companies had won open tender contracts in the previous year.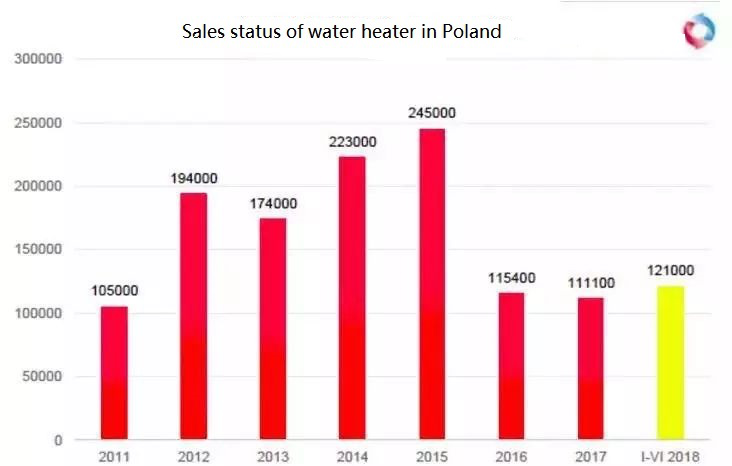 SPIUG noted that the number of domestic solar water heaters will continue to grow and that they are critical to the development of the solar thermal market in Poland. Data show that in 2017, 70 percent of collectors were used for small solar hot water systems, 10 percent for combined systems and 14 percent for large systems, such as hospitals, public buildings or solar district heating demonstration projects.
Sales slumped in 2016 as the polish government's support programme ended in the summer of 2016. The support programme, run by the polish foundation for environmental protection and water management, has supported the promotion and use of solar water heaters for domestic use since its launch in September 2010, driving market growth in the following years.
The retail market is volatile for single-family housing systems, so it's hard to say whether the growth seen in the first half of 2018 will continue into the second half. The main reason for the increase is that many projects were awarded in 2017.
In any case, there are opportunities in this market, which is funded by the government. These include actions to reduce smog and plans to reduce emissions. The latter would help the government promote efficient boilers and support renewable energy sources such as solar and biomass.
Sales of Heat Pumps and Condensing Boilers Peaked in 2017
Sales of heat pumps and gas-fired wall-mounted condensing boilers peaked in 2017, while sales of solid-fuel boilers and solar water heaters were essentially unchanged from the previous year, according to the data in the table below. The difference is that in the first half of 2018, sales of heat pumps were slightly lower than in the same period of the previous year, and wall-mounted condensing boilers again showed high demand, although sales of solar thermal collectors were better.

CONTACT US:
Tel: 0086-519-85083393
Mobile: 13701509293
Inquiry E-Mail: sunpower@sunpower-solar.com