Applications of solar water heater
Views:14 Author:Site Editor Publish Time: 2019-03-28 Origin:Site
Applications of solar water heater
The solar water heaters are usually applied in three areas: residential, commercial and industrial occasions. In different fields, you should choose diverse types of solar water heaters to fulfill your demand. When choose residential solar water heater, you should determine the capacity according to your family members. When buying commercial or industrial solar water heater, you should choose those with more capacity than domestic ones.
As to the need of protecting our earth and reducing cost, solar water heater is becoming popular among u.s. The climate of earth is higher than before, which is attracted the attention of people and government, using solar water heater is an useful way to solve the serious environmental problem than traditional heating methods.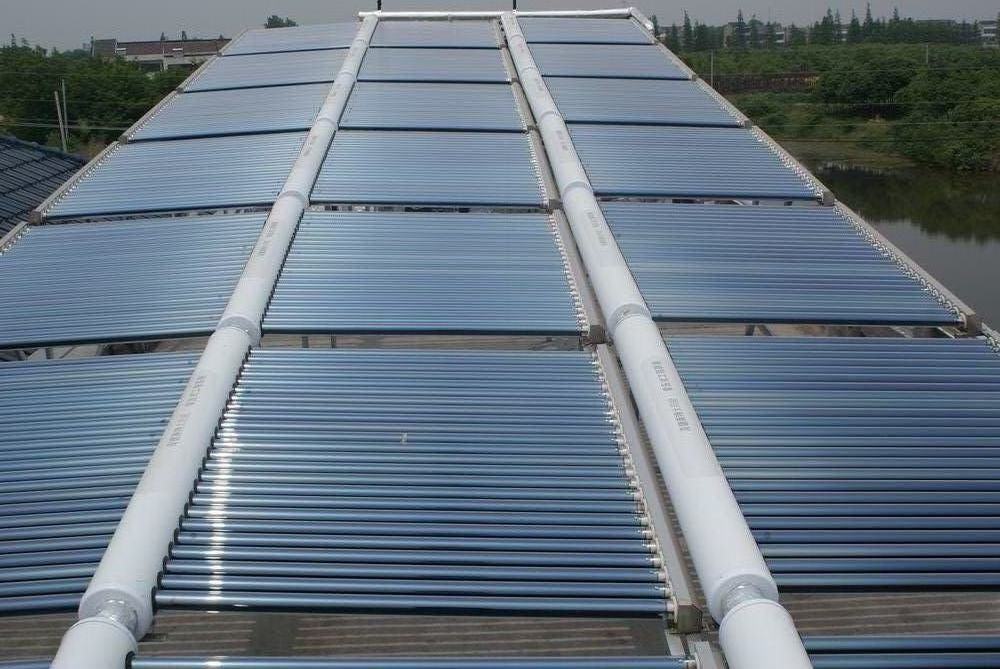 Residential solar water heaters are usually installed in apartments and bungalows. By using residential solar water heater, inhabitants don't need to use non-renewable resources as fossil oil or woods to heat the water. Nearly 75% of residential energy consumption in the United States is related to water heating, space heating and space cooling. According to research, 115 million households consume 266 billion dollars on energy each year. The cost on energy consumption is very expensive, which is mainly constituted by water heating etc. As a result, the application of residential solar water heater is very important. Residential solar water heater is a environmentally friendly product. It will help you reduce the emission of carbon efficiently. Residential solar heating can also meet additional household heating needs, such as radiant floors, swimming pools and so on. Sunpower solar water heater helps your family has a high quality life with low cost.
Commercial solar water heater are applied to the areas like hospitals, dormitories and hotels. Commercial has larger demand on hot water than common residents. The high cost on heating water is unavoidable for companies or institutions. With the environmental problem is becoming focused by people, governments put forward new requirements for co. to eliminate their carbon emission. At this time, the application of commercial solar water heater is crucial. Sunpower solar water heater or solar water heater collectors can assistant the entrepreneurs reduce their cost on energy consumption, realize the aim of environment protection.
Industrial solar water heater can be used in breweries, dairy farms, laundry facilities and so on. It is common that a large amount of hot water will be used in cleaning and processing the brewing equipment. It is a viable alternative to use Sunpower solar water heater to reduce cleaning and processing costs. Dairy farms often have high consumption on hot water. The farm heating water can account for up to 40% of energy costs. Solar hot water can help manage long-term costs by reducing energy costs. Laundry facilities has a large demand on hot water to wash clothes, uniforms, liners and towels. Solar water heater used in laundry facilities can run for long time with little maintenance. Sunpower solar water heater can provide great economic benefit for you in the process of using it.
Sunpower solar water heater company, as an experienced and well known solar water heater maker, will make you obtain good using experience, provide satisfactory after-sales service and bring great economic benefit to you or your company. Sunpower solar water heater can meet your various demands and brings remarkable economic results for you or your company.
Our products is high-quality and safe, which are favored by the consumers who has bought. We has a solid reputation in the solar water heater industry. No matter where it is used, Sunpower solar water heater will solve the water heating problems you are facing.
CONNECT US:
Tel: 0086-519-85083393
Mobile: 13701509293
Inquiry E-Mail: sunpower@sunpower-solar.com
Web: www.sunpower-solar.com